When you confirm that you want me to offiicate your ceremony, I email you my 10-page Ceremony Planner to use as a template to create the ceremony you want.
You are not limited to use only what is in the Ceremony Planner, but it does provide a common flow and options to get you started.
Some couples simply choose from the options, and others want to spend more time personalizing the ceremony.
With the Ceremony Planner, you can: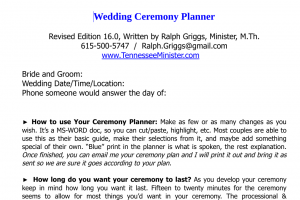 ♦ Determine the length, the content and overall feel of the ceremony
♦ Make it religious or romantic, or some combination of the two (this what many do)
♦ Choose traditional or more contemporary options, or a mix
♦ Add unique touches and something about you and your story
My Ceremony Planner was developed over the years, taking out parts that don't get used, and of course leaving in parts that couples want.  It is real-world, real-wedding tested.
You can get whole books on the wedding ceremony, but who has the time? And most of what is in those books doesn't get used.
Of course, I like to see couples spend some time thinking through their ceremony options. It will mean more to you if you do.
I am baised, but I believe the ceremony is the most important part of the day. That doesn't mean it should be long, but with some substance and meaningful to the couple.
Couples tell me how much they appreciate the Ceremony Planner and how helpful it is. I think you will too!
I do offer to meet with couples at my home in the Bellevue area, or we can work out the details through email or phone/video calls.