Hi, and congratulations on your engagement!
I have worked along side my husband in the ministry since we first married, and have officiated weddings for nearly 20 years now all around Nashville and middle TN.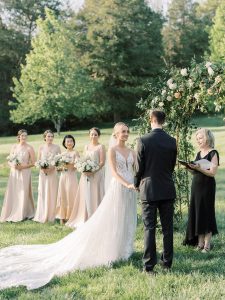 If you want me to officiate your wedding:
I will send you my Ceremony Planner from which you can choose vow wordings, readings, and more.
If you want, you can use my husband's online marriage preparation course which can save you $60 on your marriage license.
We can personalize your ceremony through a visit at my home in the Bellevue area, or through email or a call.
My total wedding fee is $300. A $75 deposit reserves your wedding date, time and location. The balance due two weeks before your wedding date is $225.
My direct contact email is marygriggs43@yahoo.com
My cell is 615-673-2519
Thank-you, and let know if I can help, or if you have any questions.
On Wedding Wire:
Technically we hired Mary Griggs (Ralph's wife) to officiate our wedding ceremony and we wanted to say how wonderful she is and the prep course her and Ralph provide to couples. My husband and I thought the course was helpful and we plan to continue to work on our communication with the tools provided. Mary is so sweet and was the perfect choice for our wedding! -Jackyn S
Note: we had many more notes thanking Mary but lost them when the website went down earlier this year. I am sure we will add more over this year.