Here are the things I do for you to save you time, money, and frustration.
+ Email you my 10-page Ceremony Planner & then discuss your ceremony preferences. If you are able to come out to my home in the Bellevue area, we can discuss your preferences face to face. If you can't make it out, we can work out the ceremony details by phone/email. Don't feel bad if you can't come out. With people so busy, often they choose the later route.
The Ceremony Planner gets rave reviews. Couples find it very helpful in planning & personalizing their ceremonies. Couples are put at ease to know what the ceremony will be. 
+ Offer my online At-Home Marriage Preparation Course which saves you $60 on your marriage license. There's no charge for the Online Course. It's included in the honorarium.
You don't have to use it, but most do and have a blast with it. Plus, it saves you $60 off the cost of the marriage license (not counting the few hundred dollars it would cost to see a licensed counselor or attend a program somewhere). 
+ Prompt registration of your marriage license following the wedding. Your signed license goes right back to the county clerk's office where you got it. They will mail you the certified copy or you can request from them in writing or by phone (check with the county clerk's office where you get your license – policies vary from county to county).
+Confidence that you have a legal, real life–long minister officiant signature on your license.
The cost?
For most scheduled & planned weddings, the total honorarium is $300. 
The couple mails a check for $75 (or send by VENMO) to confirm their wedding date and ceremony time. The $75 is non-refundable & is meant to protect the couple and my calendar.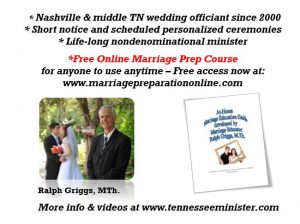 The couple sends the rest ($225) by check or VENMO at least two weeks before the ceremony.
When you are ready to get things set:
Email me at ralph.griggs@gmail.com with your wedding information
I will email you back confirming the details
The email will include my venmo where you can send the deposit (or address if you prefer to send a check). I will confirm receipt of your deposit and then we are SET!
The Ceremony Planner will be attached to the email.
Another attachment will include the instructions on how to receive the completion certificate for the online marriage preparation course (if you use it – not required but free and can save you $60 on the marriage license). This completion certificate (with my name notarized) is what you take to the clerk's office when you go to get your license. The license fee will be reduced $60.
Note about rehearsals:
If you are having a rehearsal, I will attend if I don't have a wedding scheduled at your rehearsal time. However, in most cases it's not essential, and the way I do things can save you some money.
Once the couple has received the Ceremony Planner and we've gone over it in person or through phone/email or video conversation, most are comfortable that the ceremony will go as planned. Rehearsals are primarily for the attendants and working out logistics.
If a couple still feels the need for me to attend the rehearsal, the rehearsal fee runs between $75-125 depending on the time/location.